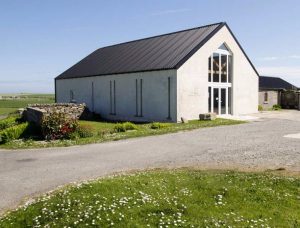 Wheeling Steen is old Norse for 'Resting Stone'.You can still hear remnants of this ancient language in the local dialect as spoken by the Rendall family who created and run the gallery.
Edwin, Elaine and their daughter Rosemary design and produce all their work on the premises allowing them to aim for the highest quality at every stage from concept to completion. Including – photography, original paintings, prints, handmade cards and souvenirs.
We serve freshly ground Organic Fairtrade coffee. We also have tea, hot chocolate, chai latte and various cold drinks, along with pre-packed snacks and biscuits, including Westray Shortbread.
In the summer we have a delicious soft-serve frozen yogurt. It's virtually fat free with a slight tartness and can be enjoyed on it's own or topped with fresh fruit or even Orkney fudge!
We are 2 miles north of Pierowall on the Airport road. Whether you walk, cycle or drive you will enjoy the stunning views of the northern isles.
Opening hours:
June – September. Monday – Saturday 11am – 5pm
Winter. Monday – Saturday 1pm – 5pm
Closed January and February
Find more information on our website! www.wheeling-steen.co.uk
We're also on Facebook at – https://www.facebook.com/wheelingsteengallery
Enquiries
Wheeling Steen Gallery
Westray
Orkney
KW17 2DN
01857 677292