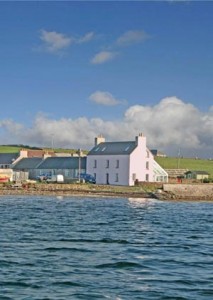 No1 Broughton provides quality Bed and Breakfast accommodation on the island of Westray in Orkney's Northern Isles.
No. 1 Broughton stands at the water's edge looking across the sweep of Pierowall Bay and out across to Papa Westray. Across the bay creel boats and other sea traffic set out and return to Gill Pier – and from there you can take a day trip to Papay (Papa Westray).
Jerry's artwork is on display throughout the house. Prints, paintings and postcards can be purchased. A selection of the works available can be viewed at Jerry's studio.
We hope that you will come to visit us, and come back again. A warm welcome awaits you.
Enquiries
No1 Broughton
Pierowall
Westray
Orkney
KW17 2DA
Telephone: 01857 677726