Firstly, this past winter has been quite good for bird of prey sightings. There have been a few Hen Harriers about on the island, as is usual in winter, mostly females but with the odd nice male present. Both Peregrine and Merlin have also been seen regularly whilst a Sparrow Hawk was seen in late December and single Buzzards in February and April. Both Buzzards were sporting wing tags and would be from the small Orkney breeding population.
As usual, most of the geese present have been Greylags but Barnacles have been around including a sighting of 22 in January. Pink-footed and Greenland White-fronted Geese have also put in the odd appearance. A Snow Goose was present in the Swartmill area in early March. A handful of Whooper Swans remained over the winter. (Many stop off in autumn on their way south from Iceland but most head south into Scotland for the winter).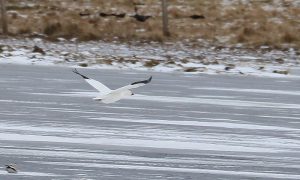 Goldcrest and Chiffchaff arrived in mid April when Puffins were back on the sea at Castle O'Burrian.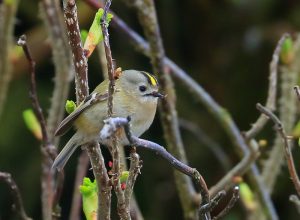 As usual, both Iceland and Glaucous Gulls from the arctic were seen this winter but were not as numerous as in some years. A few Jack Snipe have been seen but many more have no doubt been here as these birds don't tend to fly up unless you nearly tread on them, unlike Common Snipe which are much quicker to fly. A Grey Plover has been around Aikerness since November and was still present in March. It fed on the shore when the tide was out but was seen on the airfield at high tide.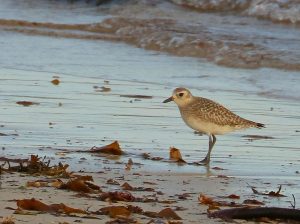 In early February many Guillemots (Aaks) were on the ledges at Noup giving a taste of spring. Also on the theme of spring, a very early Wheatear was seen on 18th Feb. Small numbers of Sandwich Terns appeared in early April. In late March a Short-eared Owl was present in the Westside and in April a Hawfinch was feeding in Pierowall.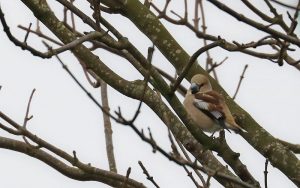 There have been quite a few Otter sightings at various places in Westray this winter and early spring.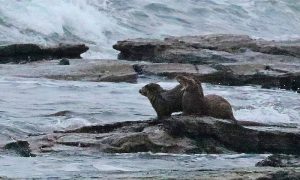 Flocks of Snow Buntings have been seen at several places especially near the Ouse. Stonechats were also in evidence this winter.
Swallows were seen on 21st April.
A Corncrake was heard calling on 30th April.  A Goldfinch was using bird feeders in Pierowall village around 5th May.
A Water Rail was seen crossing a ditch on 6th May. Whimbrel, Great Northern Divers and Sanderling were vying for attention in early May.