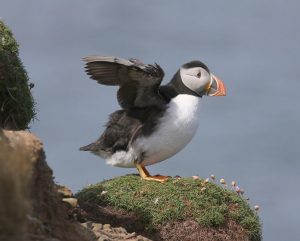 Westray Wildlife was established in 2018 offering bespoke wildlife tours on the island of Westray. Your guide, Don Otter is an experienced wildlife watcher, having been passionate about nature since he could walk when his father took him on natural history outings and he has pursued this interest ever since.
He gained much of his wildlife knowledge over years of being out in the field, travelling widely in the UK and to places further afield including North America, Africa, southern Asia and Europe.
Don worked for the National Trust for many years as a countryside ranger after starting his working life as a zookeeper.
Between one and three guests are taken on a personal tour for a full day, half day or evening to view Westray's spectacular wildlife and scenery. The tours are flexible to take account of clients' own interests and some walking is required. Longer walks can also be included if desired. Guests can be picked up from the ferry, airfield or, if they are staying overnight in Westray, from their accommodation.
We carry binoculars for those who do not have their own and an assortment of identification books so that guests can check up on the many species we will see during the day. Your guide, Don, puts his guests' needs and requirements first, with comfort breaks at the top of the list!
For more information visit their website at Westray Wildlife
Westray Wildlife